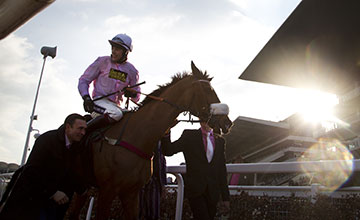 Any Currency and Aidan Coleman after winning at the Cheltenham Festival
PICTURE:
Mark Cranham (racingpost.com/photos)
Owners angry after Any Currency test revelation
ONE of the happiest stories from the Cheltenham Festival took a sad twist on Tuesday when it emerged that Any Currency had failed a drugs test and is set to be stripped of his victory in the Glenfarclas Chase, a development that prompted an angry response from the 13-year-old's owners.
Any Currency was found to have traces of triamcinolone acetonide and its hydroxylated metabolite in his post-race sample and he is now expected to lose the race at a BHA inquiry.
The positive result is thought to date back to a cortisone injection he was given in a hock for pain relief 42 days before the meeting, using a drug that has a minimum 14-day stand-down period.
BHA inspectors visited the yard of Any Currency's trainer Martin Keighley and there is no suggestion he was seeking to gain an unfair advantage. Any Currency had similar treatment in the build-up to the 2015 festival without failing a post-race test.
Keighley speaks out
Explaining the treatment Any Currency received, Keighley posted on his website blog on Tuesday evening: "Although he is 13 years old, Any Currency retains all his enthusiasm and is arguably almost as good as ever based on his last two runs, but like most horses of his age, he has a bit of wear and tear.
"Given that he has mild arthritis in his hocks, our team discussed and agreed that he should have a routine cortisone injection in his hocks. The BHA guidelines state that this particular treatment, which is relatively common for older horses in training and entirely within the rules of racing, should be made no later than 14 days before a race, to allow enough time for the traces of the injection to leave the horse's system.
"Any Currency received the treatment 42 days before the festival, three times longer than the advised timing, similar to what we did in 2015. Despite that, it appears that somehow there was still apparently a trace of the treatment in the horse's system on the day of his amazing, emotional and almost universally popular win at Cheltenham.
"As everyone knows, this was our first festival winner, but I would be just as gutted if it was our 50th festival winner, as we've done absolutely nothing wrong and erred hugely on the side of caution with our timing."
Prize-money dispute

He is owned by the ten-strong Cash Is King partnership, whose head Mark Boothright said: "The boys are gutted. There weren't any bigger celebrations than ours and then you get it taken away from you for doing nothing wrong.
"Cortisone is an anti-inflammatory, a pain killer, which allows you to train. It hasn't helped him win a race, it isn't performance-enhancing."
Boothright was also unhappy with the way that the BHA disciplinary process, which has come in for heavy criticism following Jim Best's successful appeal against suspension, has worked in this case.
He feels the owners were kept in the dark and is angry that the prize-money Any Currency won was taken out of the syndicate's Weatherbys account without the owners being informed.
Fighting to keep the race
Despite acknowledging the odds are against Any Currency keeping the race, Keighley said prior to a BHA disciplinary hearing, all that was in his power was being done to ensure he keeps it.
The trainer continued: "I completely understand that the BHA's guidelines are just that - guidelines not guarantees - but it is galling beyond belief that circumstances appear to have conspired against the horse and his connections in this way.
"No-one can take away the memories of that very special day and whether or not we do succeed in keeping the race, it has made us even more hungry and determined to have winners at the festival. Either way, I do hope that our heart-breaking experience might help other trainers, owners and jockeys to avoid going through something similar in the future."
Keighley confirmed that Any Currency's post-race test came back "completely clear" after his follow-up win at Cheltenham in April.
Read the full response from Any Currency's owners and further reaction in Wednesday's Racing Post - available first on your iPad from 8pm Tuesday