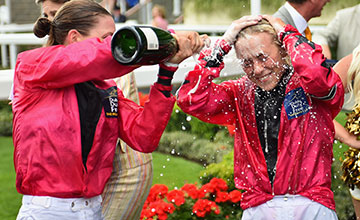 Sammy Jo Bell: took las year's Shergar Cup by storm
PICTURE:
Getty Images
Sammy Jo Bell to spend six weeks in wheelchair
SAMMY JO BELL is looking at a longer spell on the sidelines than initially expected, with the rider who fractured her pelvis in a nasty incident at Carlisle a week ago expected to spend the next six weeks in a wheelchair.
That was originally the amount of time Bell expected to be out of action, but having initially been told surgery would not be necessary doctors later decided she needed a plate inserted. Her return date is now unknown.
Bell, who was injured when her mount Royal Duchess reared leaving the parade ring and fell on top of her, was phlegmatic on Thursday about her delayed return. "There's nothing I can do about it, so I just have to get on with it," she said.
"I will do everything I can to help it heal as quickly as possible. I have not seen the surgeon since the operation, so I have not discussed what I can and can't do. I know I can't do anything with my legs, but I have no idea if I can do any upper body work to keep my fitness up."
Richard Fahey's apprentice, who burst on to the scene last summer when she became the first female rider to be crowned leading jockey at the Shergar Cup, added: "There's never an ideal time to get injured, but the middle of the season has to be the worst.
"It helps that I know that in a way I was lucky, because I'm alive and well. It could have been a whole worse. It was a nasty moment.
"I'm young, fit and healthy, so hopefully once I'm out of the chair I can start rehab and get back. I don't know when is realistic at the moment, I don't have a date or a target to work towards yet."