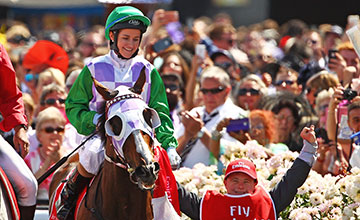 Michelle Payne: has been in hospital for a week since fall
PICTURE:
Getty Images
Payne recovering from pancreatic surgery
Australia: Michelle Payne remains in a "serious but stable" condition following her fall a week ago at Mildura.
Melbourne Cup-winning jockey Payne was operated on last week after she tore her pancreas in the fall, with the next few days crucial to determining whether the operation was successful.
Her brother Patrick Payne, a former champion jockey and now a successful trainer, told racing.com on Monday: "She's doing well but she's not out of the woods yet.
"I think the pancreas can do a backflip on you so I've been told it's the tiger country of the medical world - it can be quite dangerous territory.
"She's in really good spirits and its mending really well at this stage so we just have to be a bit more mindful and cautious for the next six days or so and all going well, she'll make a full recovery and if not, they might have to re-operate."
Payne has been keeping her fans up to date with the injury via Twitter, and on Monday morning she tweeted: "Big thanks to everyone for there wishes and support. Lost tubes left right and centre here today at the Alfred. Hoping for good results!"