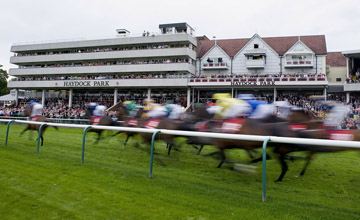 Haydock: set to inspect at 7am prior to Wednesday's card
PICTURE:
Getty Images
Storm Frank puts several meetings in doubt

WEDNESDAY'S meeting at Haydock hinges on the impact of Storm Frank, with an inspection taking place at 7am on the raceday morning.
A total of 60mm of rain hit the track between Christmas Day and December 27, and with a further 20mm forecast for Wednesday, conditions will be assessed early on.
Clerk of the course Kirkland Tellwright said on Tuesday: "The ground is heavy. We're in good shape today, but viewing the next 24 hours with a degree of anxiety.
"It's what Storm Frank does that counts, but we'd be unlucky not to race. Between now and the end of racing we could get an inch of rain, but the message is one of measured optimism."
Punchestown monitoring
Punchestown officials are "very hopeful" that Thursday's meeting will beat the weather, despite significant rain being forecast.
Track manager Richie Galway said on Tuesday: "The track was heavy but perfectly raceable today. The forecast is pretty bad for the next 24 hours or so - we could get between 25mm and 50mm of rain - so we'll have to keep monitoring the situation and see how much rain we get, but I'm very hopeful we'll race."
Friday's meeting at Tramore also hangs in the balance, with the track unraceable on Tuesday.
Racecourse manager Sue Phelan said: "There's water on parts of the track and we're expecting more rain and strong winds.
"If we get more wind than rain we might have a chance. We'll have a better idea of the situation on Wednesday, when our clerk of the course, Paddy Graffin, will be here."
Fairyhouse optimistic
Peter Roe, manager at Fairyhouse, was more optimistic regarding prospects for Friday's meeting.
He said: "I walked the track with our clerk of the course, Brendan Sheridan, on Tuesday morning, and it's heavy but raceable. A lot will depend on how much rain we get in the next 48 hours - it could be anywhere between 30mm and 50mm.
"The worst of the rain should be gone by tomorrow evening, with some showers to follow. We should have a much better idea before declaration time on Thursday. I'm very optimistic rather than very confident."
Sheridan is also clerk of the course at Naas, which is due to stage its first Grade 1 event - the Lawlor's Hotel Novice Hurdle - on Sunday, and added: "The ground is soft to heavy but we'll have to wait and see how much rain we get. I'd be very hopeful at this stage."
Cork and Bangor flooded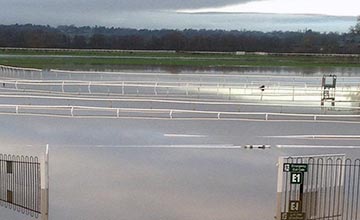 Bangor tweeted this picture of flooding at the course
Cork's fixture scheduled for Saturday has been abandoned due to flooding and officials at Bangor were also left with no option but to abandon next Tuesday's meeting.
Although calling off a meeting a week in advance is unusual, it has happened before at Bangor, where previous experience suggests it could take up to a fortnight for the racecourse to dry out, with the water level on Tuesday over the top of the running rail in places.
Surveying the dismal scene, clerk of the course Andrew Morris said: "The River Dee flooded on Sunday morning and in some places it is five feet deep. We know it could be two weeks before the track dries out and we don't know what debris has come from the river and what damage it's caused either.
"There will still be a lot of work to be done before our next meeting on January 27, but there is a good chance we'll be able to race that day, whereas there would be no chance on Tuesday."